Life Moments #7: I Kicked Jimmy Kimmel Off the Air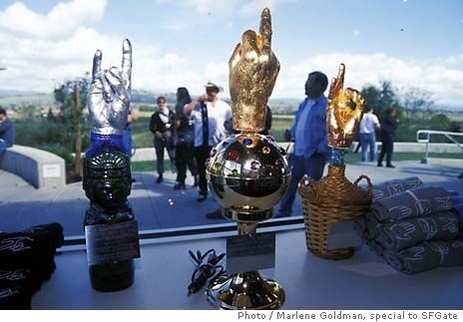 I KICKED JIMMY KIMMEL OFF THE AIR ONCE. No. Twice. True story.
Here's what happened. I'll try to be quick. Once upon a time I helped throw the first ever World Rock Paper Scissors Championship. We had hundreds of competitors vie for a $1000 first prize. As with most competitions, we had a winner, a young woman from Santa Rosa whose name was, and presumably still is, Anna. Along with cash, the top three finishers received what were, and presumably still are, the coolest trophies ever.

I need to tell you about the trophies, because one of them plays a central, if not singular, role in this story. At the time I lived on a big ranch and we had what lots of big ranches have; a big barn. The barn was occupied by a band, a painter and a sculptor. It was the latter I approached for help making the coolest trophies ever.

First, I went to Salvation Army and grabbed three really wonderfully ugly lamps from the time before style. Then the sculptor got to work making Plaster of Paris molds of my right hand. Third prize was the classic "hang loose" sign with thumb, index finger and pinky extended. Three fingers for third prize. Get it? Second place got the peace sign. And the winner? The winner got to enjoy my long middle finger flipping the bird. All three were dunked in 18k gold and mounted to the lamp bases. I sure wish I had photos. Wait. I think I do, but they're either in the other room on a hard drive or in the garage on CDs, and I am super comfortable at the moment. Can I tell you about this, about this comfort I am currently experiencing? I'm going to: Spoon is singing "Do You?" and it's a perfect 71 degrees. My shirt is off (sexy time!), I'm wearing pajama bottoms and I'm sprawled out on a daybed propped up by oversized pillows that I can't stand but also have yet to be able to adequately replace.

To the rest of the story. Okay, so Jimmy Kimmel gets wind of our competition, because I was a media attention whore in my past life, and he invites Anna on to his show two nights later. Cool for her, right? Whisked to Los Angeles where she beats Slash on the air in rock paper scissors/roshambo. Go, Anna! And then … and then … and then …


And then Slash brings out her championship trophy. And there's my middle finger flipping off millions of Americans on live television. The network censors pulled the plug and yanked it off the air. Yes, for reals. For a full thirty seconds Jimmy Kimmel was down. Nothing but a black screen and an ABC logo. When it went back live, an embarrassed Kimmel made jokes about the trophy and finished his show.

Wait! Don't click away because it gets better! The next night they decided to bring the trophy back to talk about what happened the night before. To appease the censors, the prop department taped on a second finger. Trouble is, Slash is a trouble maker. He reached over and snatched the finger off, leaving my middle finger to give America the bird for a second straight night. And, once again, the show gets taken off the air. How funny is that? If you're me, it's super duper funny.

All I had to do to take over the national airwaves was … wait for it … lift a finger.


[The "Life Moments" series consists of half-hour morning exercises. I sit, let a memory bubble up and type it out …. with the clock set for one half hour. Doesn't leave much time for worrying about grammar or editing. Just get the stuff out the door. All associated photos are mine.]